The more the class seems to delve into the connection between art and science, I find myself questioning what part of science and technology does not have a connection with art. This week lecture revolved around medicine and art.  Now this connection I have always seen, ever since I saw the Body Worlds exhibit at the California Science Center. The exhibit was a interesting collection of preserved bodies, medical history, and simple satisfaction of curiosity.
I remember feeling very curious and fascinated about the fact that there were real bodies being displayed in a variety of positions  trying to display conceptual ideas. The way the bodies were displayed wasn't gross or anything, but rather simply fascinating and artistic.
Looking back at the exhibit and thinking about science as art, I question whether most of the visitors looked at the exhibit as entertainment or as a learning tool. I do remember that I was one of the few who actually listened to our tour guide, most just ohhed and ahhed and thought all the displayed plastinated bodies were just "so cool". I questioned how effective the exhibit actually was.
In thinking about the human body which is normally viewed by most people as a scientific item as a form of art, I immediately thought of scarification as a variety of using the body for expression. Basically, scarification requires the "artist" to carefully cut the skin of the client in a design so that when it heals, it will create a scar. Although consider very much taboo in Western society, scarification is actually common in many african and amazonian tribes. This form of body modification can be extremely dangerous, more so than tattooing, since it does involve an open wound and requires the artist to basically have the skill and responsibility of a surgeon with a scalpel.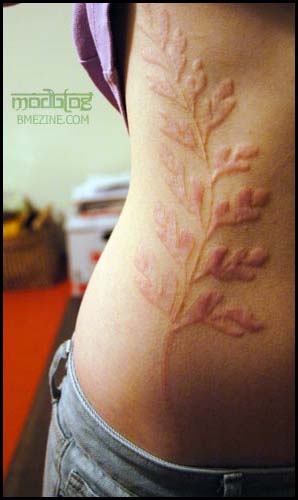 Prior to actually meeting an artist who does this work, I never would have thought of a scar as a possible form of artwork. To me, scar were just a result of getting cut using a table saw, or from surgery. When I met my friend the artist, this all changed. Scars don't have to be a ugly momento of that knee surgery or that cesarean section. One of the first occasions he actually did was on a guy who had gotten open heart surgery and wanted to modify his surgical scars to create a more meaningful design, something that meant a lot to him. Personally, the thought of someone coming near me with a scalpel ready to just cut my skin and nothing else for the sake of self expression, is just a tad too much, but I do commend those who willing for the sake of expression and sometimes art, go under the scalpel so to speak.
Body art is another fascinating way the body has been used for art. Interestingly, the female body has most often been used for this art perhaps b/c of the softest of the female silhouette. This type of art has a wide form of use from use in photographs to a costume for Halloween.

The body gets modified in so many ways, from simple eye piercings to scarfication to manipulation of waist size with corsets to plastic surgery, people has found many ways of expressing art, personal taste, or ideals of beauty.