Being an electrical engineer here at UCLA, I try to incorporate related topics into my blogs as often as possible. When I thought about what I would write about this week with a theme of medical technology, I knew I had to write about LUCAS.
There is a line in the original version of the Hippocratic Oath that reads "to teach them this art, if they shall wish to learn it, without fee or stipulation." Sure, we could teach everyone in the world common medical knowledge but it simply would not be possible for everyone in the world to have access to the equipment, drugs, and facilities necessary to use this knowledge. For example, many third world countries would be no better off if their citizens understood what was medically wrong with them. However, if we could create better medical technology that allowed us to cheaply and efficiently treat, or at least properly diagnose, citizens of third world countries, we could help spread awareness about diseases and their prevention.
LUCAS is actually a project currently undergoing development by Aydogan Ozcan and his team at the California NanoSystems Institute at UCLA. The Lensless Ultra wide field Cell monitoring Array using Shadow imaging (or "LUCAS") is a device that acts as an "on the go microscope" with capabilities that include detecting infections and diseases in human blood samples. LUCAS uses a type of scanner and not a lens, so it's not exactly a microscope. First, a human blood sample is placed on top of a surface, kind of like a scanner glass. Next, a LED light—placed practically on top of the sample—is shone upon the sample. The light is able to penetrate through the blood sample and onto the sensor surface beneath it. Blood cells are semi-transparent, meaning blood cells are so thin that a little bit of light can actually go through them. The sensor surface picks up the shadows of the blood cells and it looks something like this: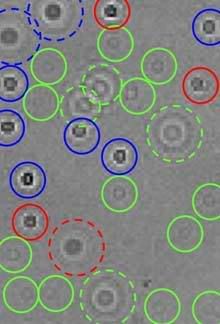 To us this doesn't look like much, but to a computer processing these shadow images, a lot is revealed. A healthy blood cell will cast a certain shadow while an infected one will cast another. Blood cell shadows are so unique that blood type, presence of HIV/malaria, and other information can be derived from a shot like this.
So how would this be useful at all, right? We already have blood tests and doctors for all of the things LUCAS can look for. The brilliance of LUCAS is its potential use in situations outside of a lab. Because LUCAS does not use a lens and the light source needs to be very close to the sample, it has the capability of being incredibly small. The smallest (and maybe most practical) application of LUCAS on something portable was on a cell phone—the camera function was replaced with a LUCAS device (see picture below). If this could be mass produced and properly used, a blood sample could be taken, scanned into a cell phone, the scan sent to a computer in a lab, and the results sent back as a text message. This would be phenomenal for soldiers who need immediate surgery and are in need of a matching blood type from a donor. Also, LUCAS would allow people in Africa to have access to HIV tests, which hopefully would raise awareness and the avoidance of its spreading.
The LUCAS device has not been perfected yet but has had successful trials and promising results. Medical technology is always being improved. From smaller surgical incisions to robotic surgery, the possibilities are almost endless. And although advancement of medical technology may not offer a cure for everything in the world, it can aid in containing and essentially ending the spread of diseases.
http://www.geek.com/articles/gadgets/ucla-converts-cellphone-camera-to-blood-disease-detector-20081226/
-Adam Marcus