When reflecting on this week's readings by Walter Benjamin and Douglas Davis, it fascinated me to learn  how much changes throughout history have influenced changes in perspectives of art. At the peak of the industrial revolution, new mechanical inventions gave way for new methods of reproducing artwork, such as photography and film making, which began the age of digital artwork and reproduction as we know it today. What was not initially recognized at the time but is now debated about today are the politics involved in reproducing artwork, and the real justification of priding replicas of artwork that are now so easily reproducible. One of Benjamin's main points in his excerpt was that "works of art are received and valued on different planes; with one, the accent is on the cult value; with the other, on the exhibition value." Benjamin explains that some believe true value lies in the sole existence of a piece of art and believe it should be hidden to obtain its worth, while others believe artwork is deemed worthy the more it is displayed, acknowledged, and reproduced.
Although I can understand both polar sides of this argument, I must say that I am more pessimistic about this topic and believe that art should be valued based on its sole existence rather than how many times it can be replicated. In my opinion, it is worth so much more to travel to the place where the original art piece was created rather than going to a local museum and seeing a replica of it. For example, I will never forget the special moment when I viewed the original statue of Michelangelo's The Pieta in Saint Peter's Basilica, Italy. This beautiful statue of the virgin Mary holding her son Jesus' body in her arms is a statue I have seen many times, but the moment I got to behold the original piece brought tears to my eyes, and was an experience I will never forget. I believe that art should always hold this type of value and should be appreciated in this sense.
I agree with Benjamin's analyses of  photography and film and the questions he addresses as to whether they should be considered "art." It is true that a photograph captures a moment in time and space, but is the existence of the actual photograph itself really that meaningful when one can easily replicate it, or edit the photograph on digital workshops? A similar feeling is addressed with the film making industry. Although acting is an art, how much of  an actor's artistic talent is really portrayed in movies when the talented producer behind the camera can capture any emotion he needs to? It is hard for me, personally, to fully accept photography and film as art because our society has the ability to give false impressions with how advanced we are today. However, it is truly a matter of opinion as to what people perceive art to be.
The following link is an article that further addresses the real jobs that actors have when filming, and how the camera does most of the work:  http://www.slate.com/id/2096421/
When further discussing film in lecture on Thursday, I also found the topic of robotics in cinema to be quite interesting. Throughout history and popular culture, robots have reflected the mood, social and cultural issues, and technology of their times. For example, in the Cold War 1950s, robots were generally viewed as threatening forces, but in later years reflected both the conflict and the continuity between man and machine. Robots have also functioned as both servant-helpers or oppressors of humanity, portraying the good and evil sides. Building off of the idea of a third culture emerging, I think that the idea of robots that are created to resemble human behavior further supports the two cultures of art and science emerging. The first movie that comes to mind when I think of this concept is I-Robot, a 2004 film starring Will Smith,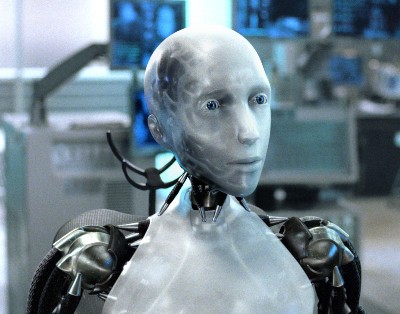 where a robot named Sonny proved himself to be unlike all the other manmade robots because "he" claimed to have feelings, emotions, and dreams. This scientifically created machine was able to express human-like behavior based on observing humans. This movie made me think  about how technologically advanced our world is becoming, and wonder if someday this realm between art and science that has emerged will really be able to create a robot that resembles human beings physically, mentally, and emotionally. Here is an example of a man who is in the process of perfecting the robot he built to do just that:  http://www.youtube.com/watch?v=HV7bYs-ef84&NR=1
It amazes me how much art, science, and technology have emerged in today's society. Although my perception of what I consider art is broadening, I am still trying to rid the stereotypical image of what I believe art should be. The most important lesson I have learned so far is that the perception lies in the eye of the beholder. These past three weeks have really opened my eyes to different perspectives in art and how much science is emerging in the field of art in many ways, and I can't wait to continue learning more about it.
-Nicolina Greco