Nanotechnology is a pretty broad term, butsuffice it to say that humans are now able to manufacture new materials on a level much smaller than ever before.  Many people have many fears about nanotech, including the horrifying "grey goo" end of the world scenerio.  In this scenerio, nano particles or nanobots begin to self replicate using readily available materials in thier environment.  On Earth, this simply means a nano particle that can make copies of itself out of Nitrogen, Oxygen and/or Carbon.  Once this process begins, it is very difficult to prevent a spread of these particles, exponentially increasing in number, eating up all the materials on the planet, and through a process not unlike this:
the nanobots will turn this:
into this: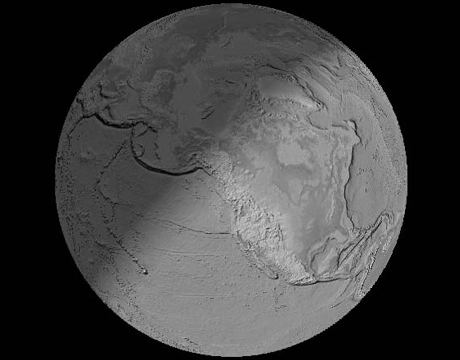 This process seems pretty simple and frighteningly plausible, but I am happy to report that, according to my sources, this has not happened yet.
This brings up a large problem for modern day nanotechnology users, which is the general fear of nanotechnology.  Just the fact that it is very small is scary enough.  I mean, we could be BREATHING these things for Godsakes!  A much to-do came out of the realization that many skin care and lotion products had begun to use nanoparticles, and many people feared that the nanoparticles would seep through the skin and roam freely around the body, like tiny wreckingballs with nothing to stop them.  The fact is, the smallest particles in sun screen and other lotions are NOT man made nanoparticles.  Every time you smell something, a tiny receptor in your nose is responding the tiniest single molecule and transmitting its smell to your brain.  Sitting in your dormroom, or in your home, you are constantly breathing in and out dust and pollen, and your body is well equipped to handle this constant influx of small particles.
Nanotechnology has more than just the power to incite fear.  Nanotech can produce seemingly magic materials, such as windshields that repel water, self-cleaning concrete, or pants that never need to be washed.  As with any new technology, especially one as powerful as nanotech, it is important to understand the full implications behind every item produced, and to integrate them into our ecosystem as safely and gradually as possible.  If we are able to utilize nanotechnology effectively, we may see the rise of a new age, perhaps a Diamond Age, to excel us into a bright new future.
http://www.youtube.com/watch?v=e44hA6IBtkA&eurl=http://io9.com/5106166/the-science-behind-giant-robot-gort