On Friday, February 27, 2009 I attended artist Beatriz da Costa's Invisible Earthlings opening exhibition. When I walked into the small exhibition
room, it was quiet, the lights were dimmed down low, and spot lights were lit upon shelves mounted against the two main walls containing specimens of microbes in petri dishes. There were 6 different shelves set up, and each shelf had two or more microbe specimen samples collected from 6 different placesaround Beatriz da Costa's home. Viewers were able to learn about each microbe specimen on a small touch-screen electronic display above each shelve which contained an informative write-up about the specific microbe, including where it was found in her home, and where the microbe is commonly seen. 
The exhibit was quite interesting. I recall learning about 3 microbes in particular and remember being fasinated by what I learned. First, I observed the microbe Penicillium, which was found on the artist's butterfly bush in her garden. Penicillium is a fungus that is used for many things, including the production of cheeses, such as Brie Cheese, and the commonly used antibiotic Penicillin.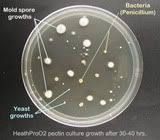 I also observed the microbe Yeast, a microbe she found on a chair that is commonly used to make bread and alcoholic beverages, and Lactobacillus, a microbe she found on her porch, which is found in the human vagina and gastrointestinal tract. I could not believe that these microbes are actually present all around us, and not just in the places where we most commonly see them. Who would have thought that a fungus that helps produce cheese would be found on the leaves of plants in your garden? It really makes me wonder what microbes are present on my laptop as I am typing this blog, or on my clothing or pen or shoes…
I was fortunate enough to have the opportunity to meet the artist and talk to her about her exhibition. She told me that through her work, she wanted to break the notion that microbes are only associated with things that are harmful and cause problems, and wanted to stress that they in fact surround us and are present in our environment everywhere. I definitely understood this concept by observing her exhibition, and am now more aware that microbes are inside me and all around me. I am also now aware that there are good microbes and bad microbes present in the world, and that just because society likes focus on the bad ones does not mean that all microbes are harmful. This exhibit was awesome and I am glad I got the opportunity to check it out and learn something new about science through art!
By: Nicolina Greco