Have you find UFO in above old painting? If not, let me give you a hint. What is the shepherd at the left shoulder of Madonna looking at? Now, you can see the flying disk with lights, which most of us like to define as UFO (Unindentified Flying Object). If the thing you just saw was really UFO, it would be the strong indication which supports the people who believe spacecraft routinely visit our planet for hundreds of years. I am sorry for making the fellahs disappointed, but the thing on the painting turns out to be not UFO if the contextual information of the above painting is correctly understood.   
First, there is rays of light coming down from this flying disk, which might be thought of as some kinds of laser communications system to us who are exposed to many sci-fi fictions. However, this ray scene is found in many religious paintings to express the sacred moment when an angel comes out of clouds.
So, the ray scene should be thought of as "[a] specialized iconographic language that modern viewers no longer understand" (Cuoghi). Thus, in this painting, the ray scene depicts the cloud with lightening rays which is the moment right before an angel comes out of the cloud.
Secondly, shepherd vision should be explained as one of iconographic languages, too. Truly, many other religious paintings have the shepherded with the hand on the forehead whenever there is the angel coming out of the cloud lined by golden rays.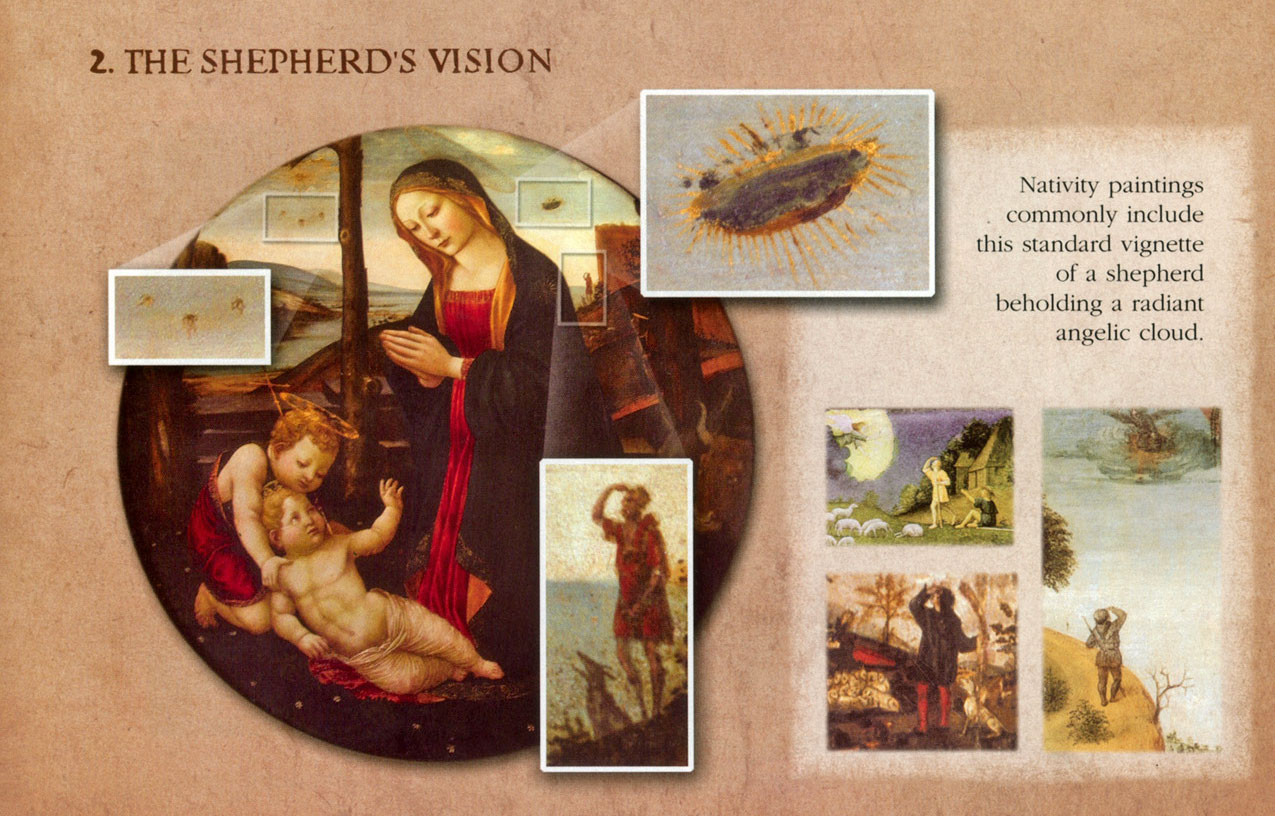 To sum up under the correct historical backgrounds,  it is evident that the flying object in this painting is not at least an alien spacecraft, but rather angel's ride, and the shepherd is waiting for an angel's appearance. By the way, here are some facts. 
Additional fact #1: 'Madonna and Child with the Infant Saint John' is the one of the favorite paintings for many UFOlogists to be referred to prove the frequent visit of alien spacecraft to the earth.
Additional fact #2: For some reason, people have started seeing UFOs in the sky since the first release of many Scifi movies. 
Final project abstract
In the midterm project, diffusion art, the aesthetics of the random motion of ink diffusion was lightened up by the combination of filming techniques and chemistry. As expanded from the midterm project, in this time, the diffusion art is proposed to apply to art therapy. The dome-structured room is equipped with the super-sensor system which can analyze a patient's emotional state based on voice, body temperature, breath, and brain waves. The analyzed patient's emotion is delivered to the robot with artificial consciousness. As reacting to the signal, the robot chooses the proper color of ink and performs diffusion art over the wall of the room to improve the patient's emotional well-being.          
zoo duck hwang