The concept of biotechnology can be interpreted and explained in various ways. Many  view it as a means for political debate and disagreement; many understand it as a dangerous, unpredictable scientific method with potentially fatal consequences; and many see it as a revolutionary concept with virtually unlimited applications to modern day life. It seems as though everywhere I go, someone is attempting to enlighten me about the "truth" behind biotechnology. I often see special interest groups and other non-profit organizations aimed at obtaining a greater public awareness about the potential health risks of genetically modified foods, ranging from beef to most types of agriculture. In a lot of ways, someone who had not done extensive research on the many topics to which biotechnology can be applied, may be very confused when asked to quantify and develop an opinion on this complicated field.
In the past, long before I signed up for DESMA 9, I spent a lot of time researching the  benefits and negative aspects of biotechnology. It is a topic that had always interested me, partly because of its incredibly revolutionary potential, especially when applied to human life in the way of stem cell research. Opponents of biotechnology must realize that biotechnology as a whole, especially stem cell research, is in its' very early stages. To shut down research stations and halt current investigations and experiments that have millions of dollars of time and money invested, like many are suggesting the government should do, is extremely unwise if not completely idiotic. Negative side effects of biotechnology, albeit some having fatal consequences, are simply part of the learning process, and why dangerous research is being done solely on animals and not yet on humans. I suppose what I'm saying is that the human race needs to be willing to take certain risks to develop an area that, if researched thoroughly enough and funded properly, will allow them seemingly unlimited access to new medical methods and technologies, providing revolutionary discovery in areas from disease curing to limb and organ regenration.
Though I am a strong proponent of biotechnology in the overall sense of the word, I do not believe that its principles and processes should be abused simply for the sake of art. I feel the way I do about biotechnology because of its prospective ability to improve the lives of humans in various ways, and I feel that killing hundreds of rabbits while attempting to install a fluorescent gene "for the sake of art" and careless experimentation, that offers true benefit to nobody besides the artist and the select few that find amusement in such a thing, is a poor use of resources and time. Biotechnology can be applied to modern society in so many different ways, I feel that one needn't devote one's time to experimental biotechnology because the field, in its entirety, is still very new and very underdeveloped as a whole, meaning that there is an incredibly large amount of valuable research to be done. As an example of the various ways in which biotechnology can apply to modern society, I will use genetically modified agriculture.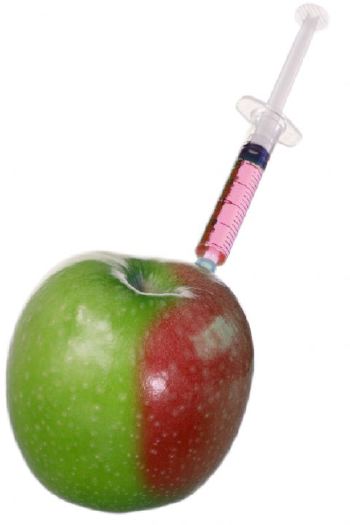 Biotechnology can modify the color, texture, and most commonly the overall nutrition of a certain fruit or vegetable. Many are against this procedure, as certain chemically modified foods have had negative health consequences, whether this effect occurs over a long or short period. However, biotechnology, even when applied to agriculture, can have numerous beneficial effects. Genetically modified foods, although many suggest that the modifications are purely for aesthetic purposes, which I agree is a process that should stop, often have certain nutrients they may be lacking inserted. Another, and perhaps more important aspect of biotechnology applied to agriculture is the chemical modifications that allow for pest control. Pests, if not monitored and eliminated, can completely decimate crops, harming not only the product itself, but the financial stability of many farmers and the economy as a whole. Genetically modified agriculture is a singular example of biotechnology that has a compelling argument for its support and its opposition, representing in this sense the controversy of the entire biotechnology field.
- Dalton Abbott