I found Dr. Ramakrishnan's lecture on consciousness very intriguing, especially since it was from a physiological perspective. The discussion of the different levels of consciousness (as represented by the various definitions) aided in understanding how "being conscious" can apply to different situations. For example, when considering consciousness as the "the state of being aware of something…within oneself," the case study concerning the elephant reacting to a reflection of itself by touching its actual being rather than the projection is a clear example of this. The elephant obviously saw the reflection merely as a representation of what was real and, thus, touched its body and not the mirror. Honestly, I was not that surprised by this. I have seen a sense of self-awareness in animals with my own eyes. This level of consciousness is evidently a commonplace trait amongst more advanced organisms.
                Another example that was presented in the lecture was that of cephalopods with the biological ability to "disappear" into their surroundings as a defense mechanism. This fascinating capability provides evidence of the aforementioned level of consciousness in cephalopods, the awareness of one's own being and projected appearance. However, it too supports the idea that cephalopods have yet another level of consciousness, the "state of being aware of an external object." The ability of these organisms to quickly blend into any surrounding at the instant of a threat was impressive, more effective than I would have guessed (as evidenced by the videos shown). While I do believe that some of the traits associated with this defense mechanism and "consciousness" are probably instinctual, evolutionary adaptations, I absolutely agree with Dr. Ramakrishnan's analysis that the cephalopods have an awareness of their own image and the image of their environment.
                Though I found the previous two studies convincing, I was most interested in the case of the "bachelor" vs. "bonded" voles. The bonded, or monogamous, voles experienced a level of consciousness that could include the "state of being characterized by sensation and emotion." One could argue that this monogamy of mates is an example of "love," as experienced by an arguably low-order organism. The bachelor vole, on the other hand, does not practice monogamy as would be expected of rodents. The difference in the presence of certain neuron receptors between the two types of voles is considered to be the reason for these drastically different lifestyles and levels of consciousness.
                The debate regarding the role of neuron receptors in determining emotion (especially in humans) also came up in the scientology/Tom Cruise interview. I had seen this video before and it angered me just as much now as it did back then. My family has a history with severe, spirit crushing, dream killing mental illness. Without antipsychotic medications, my life would be hell. I am aware of the over prescription of mind-altering drugs and the failure of diagnosis in many cases, but Cruise's arguments against antipsychotics were based in sweeping generalizations and impassioned activism. In saying "there is no such thing as a chemical imbalance," Cruise is just plain wrong. Biological abnormalities do exist and do cause mental and emotional disorders.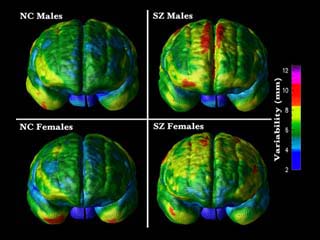 Side Note: I want to go to medical school to become a psychiatrist because I have seen the horrors of crippling mental illnesses. I have experienced the drain that they place on families and I have seen them change people from the inside. I want to help people in these situations and I know that in some cases, the only way to do that is through the careful, responsible, and monitored treatment with antipsychotic medications. I do not see drugs as the end all of treatment nor do I see them as the most preferable option. I respect their power for good as well as their potential for destruction.
-Jeff Poirier